Stories to Gather All Those Lost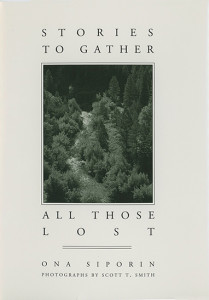 This gathering of short personal essays grew out of Siporin's regular radio commentaries on Utah Public Radio and live performances around Utah and the region. The essays, published by Utah State University Press, are short, evocative pieces, meditative in tone, taking up a range of subjects—including memory, travel, ethnicity, place, humor, love, conflict, and family. Siporin tells us that story itself is what we use to gather loved ones and experience to ourselves. This gentle function of narrative, and the voice of the storyteller herself, stitch these rewarding meditations together. Scott Smith's photographs offer visual counterpoint to the text. His images—sometimes haunting, sometimes humorous are themselves meditations.
"Ona Siporin brings us miracles of locality—from an Afghani bus, a Portuguese hair salon, the eden of the home farm in Iowa, and that canyon peoples with animals behind the house in Utah. Ona gives us back our own sacred nibbles of time. Readers will taste the vivid satisfaction that comes when you have to know something in the night, and you go seek it."

—Kim R. Stafford
Buy on Amazon.
Uncommon Common Women: Ordinary Lives of the West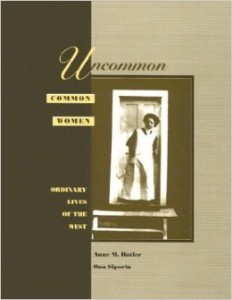 Based on the successful lecture/performance that historian Anne M. Butler and Ona Siporin presented in eastern Canada, the eastern U.S., and throughout the Intermountain West, this work brings these two women's art, scholarship, and wisdom to the printed page. Uncommon Common Women broadens and enriches the general reader's understanding of women's lives during the western emigration era. The authors cast a wide net:  they are not interested in promoting the stereotypes of the West—the schoolmarm and the dance hall girl—but rather in bringing to notice the forgotten roles and gritty realities of women's lived experience during what was often a brutally difficult time. This is a multi-genre piece, combining historical narrative with storytelling and photographs. Anne Butler's historian's voice provides a narrative matrix, describing the unvarnished experience of groups and individual women—nonwhite pioneers, indigenous women, criminls, nuns, educators, and suffragists—who have been largely ignored in the written histories. Siporin, the storyteller, offers a complementary dimension, creating individual vignettes of women who were or who might have been, often speaking through interior voices, personal and intense. The result is an unusually rich and rewarding book that offers many images and speaks in many voices.
"Ona Siporin has an uncommon knack for both storytelling and graceful language.  Her prose style hints at the poetic and her personal involvement with her characters is such that you will know these women and feel their lives."

—Amazon review
Buy on Amazon.
The Must of Murder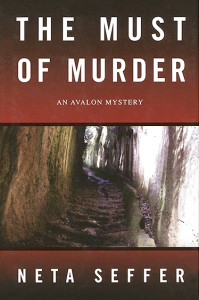 Under the penname Neta Seffer, The Must of Murder (Avalon) is a mystery set in a hill town in Tuscany. While working on a magazine article about the trails that thread through the surrounding forests of the town, protagonist Leah Contarini witnesses a murder. Fleeing the killer, Leah takes refuge in an ancient burial site and in the ensuing days becomes involved in a web of twisted love that exists beneath the local daily life and festivities. Stalked by the killer and compelled by an angry incident at the celebration of Epiphany and the discovery of a second murder, headstrong Leah sneaks off in early morning, against the admonitions of her husband Nick and the local police lieutenant, to search for clues on the isolated trails. What she finds is a bullet—and a crazy man not so crazy after all.
"This book blends a peek into Italian culture with a murder mystery.  What could be better!

The pacing is good and you root for the protagonist.  There are enough twists that the book keeps you guessing, and an unexpected bonus is the attention to detail regarding Italian traditions (and food). A highly engaging read!"

—Amazon review
Buy on Amazon (also available on Kindle).